Dogs were a part of my life for as long as I can remember. I was being told stories about how they became dearly missed family friends. I have been seeing the watery eyes of those who recalled their long-gone four-legged companions, even years after they have left this world. I was brought up living with a dog, which influenced me once I have started a family of my own – I decided to raise my children the same way. Today we have our own amazing canine-related stories to tell – both joyful and heartbreaking. I find it true that a loving dog's soul never will never leave your side.
I hold a degree in pharmaceutical toxicology, although cynology has always been a passion of mine. I joined the Polish Kennel Club in 1998. From its birth in 1911, the FCI has brought together 90 member countries spanning 5 continents The PKC unifies the breeders, owners and fans of pedigree dogs.
It was back in 1998 when I have acquired my first purebred. We used to have three amazing dogs: one female Caucasian Shepherd and two Golden Retrievers.
Carrera of Mosiński Ogród

Wendelin Intencja

Wendelin Intencja and Monday Przechera
In 1999 I met a canine with so stunning, I could not forget it for a long time. I became excited enough to start dreaming about becoming an owner of this proud, beautiful breed that was not very heard of in Poland at that time. It was a Rhodesian Ridgeback bred in Kananga – one of the first Polish kennels. I was captivated by its strength, gorgeous athletic silhouette and distanced approach towards strangers. I kept on reading, watching and getting to know the race well for a long while before I have finally decided to acquire the African lion hunting dog.
My dream came true in 2014 – Labone Mwine Makorikori bred in Izabela Gołąb's Makorikori kennel became a member of our household. Three years later Aresvuma Ellema Maluwa – a female from Svetlana Malinnikova's Aresvuma – joined the pack.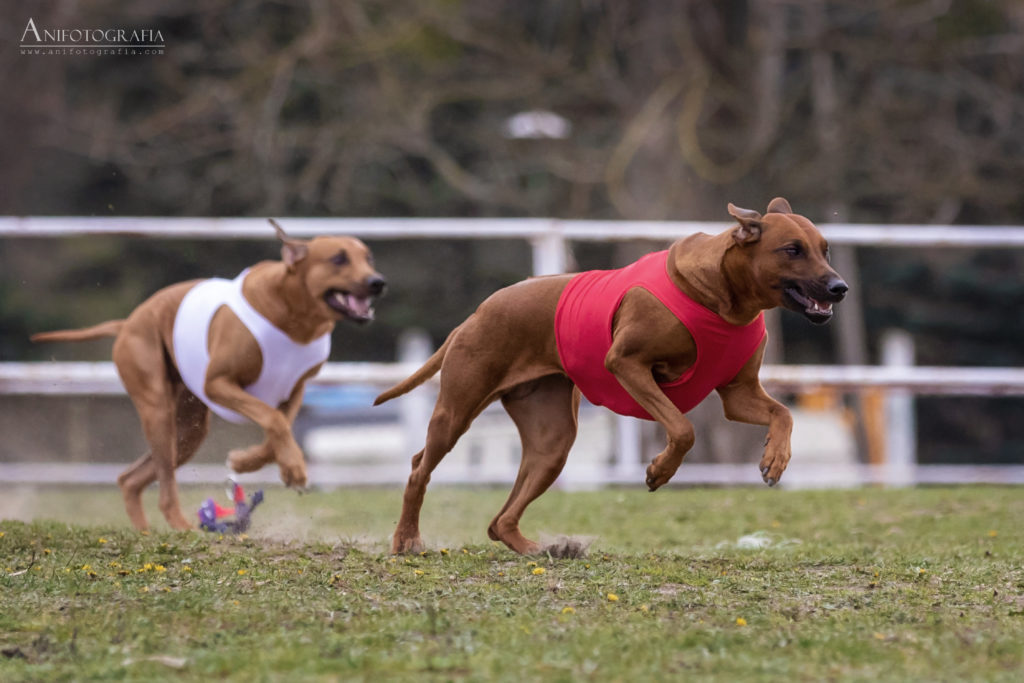 Our lives took a 180-degree turn. Having a Rhodesian means having an active lifestyle that involves frequent walks, jogs, training, and participating in shows and coursings. At one point my daughter Antonina started to share my passion for dogs. She began to help me as a handler since she has already been acting as their keeper and guide from the very moment they have first stepped into our home. Together we made the courageous decision to start the Ginger Ridge kennel which was officially registered by the Polish Kennel Club (199/19) on 29th January 2018.
This is where a brand-new story starts – the story about our dogs. .
Katarzyna Oporowska-Moszyk