ARESVUMA ELLEMA MALUWA
After many hours spent discussing and considering, we have finally decided to start a kennel breeding the breed we are both fascinated by and in love with. It was clear that we had to pick the dam that would found it. We had her pictured in our minds – she had to have it all: perfect lineage, looks and personality. Yet, we have chosen not to import a puppy from the Dark Continent. We have found everything that we were looking for in Svetlana Malinnikova-Aresvuma's kennel in Russia. Its story dates back all the way to 2003. It was Svetlana's Harmakhis Wisdom Daksha of Aresvuma – one of the breed's top prize-winning dogs (bred in Sara Venturelli's kennel – Harmakhis Wisdom) and Lema's grandmother – that caught our attention. Her daughter is the gorgeous Godersi delle Fama – Lema's mother.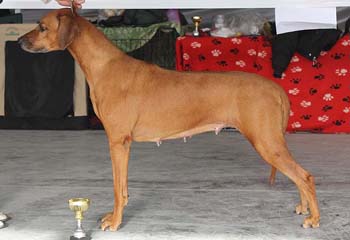 Prize-winning Boo was bred in Monika Kolb's kennel in Germany in 2013. He is the son of Clachan Shashi – a dam from Scotty Stewart's South African kennel. We were impressed by Boo's beauty as well as all other Aresvuma's dogs that we have met in the show rings and outside them. The decision was made. Our first female, the kennel's dam will be named Aresvuma. This is the story of how Daksha's granddaughter and Boo's daughter – Aresvuma Ellema Maluwa, nicknamed Lema or Lemcia (Polish for Lemmy) by us – arrived at home.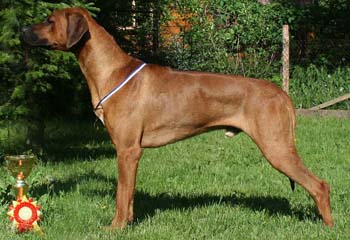 Aresvuma is not simply 16 years' worth of history – it is Svetlana's achievements, vast knowledge and her humility before nature, which we believe to be a breeder's essential trait. Her work can be summed up by simply mentioning Aresvuma's trophies:
3 World Champions (BOB&2BOS)
1 Junior World Champion
1 Veteran World Champion
1 European Champion (BOB)
1 Junior European Champion
4 Veteran European Champions
21 International Champions
1 CRUFTS Champion (BOB&BIG-IV)
41 Multi champions
Besides that, we also appreciate Svetlana's personal side – always eager to share her knowledge, give support and advise as best as she can.
It was a beautiful and sunny day in June when she got to us from Moscow, bringing both the gorgeous 8-weeks old Lemmy and all the needed documents.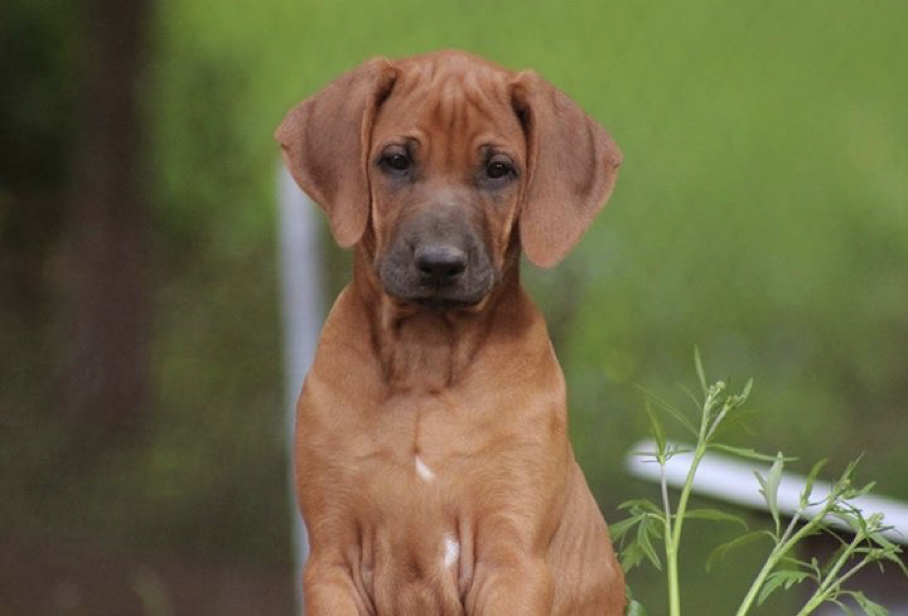 Lema was blessed with an uncanny personality: she can be cute, silly and careful; she is also very devoted to our family and all its members. As a Rhodesian Ridgeback, she is also quite independent and lacks trust for strangers. Having such a dog is both a pleasure and a challenge. As it was before with Labone, Lema's training became a part of daily lives.
Lema started her show dog career as a junior and has achieved impressive results in that class – if you would like to learn more, please see the achievements tab.
Lema in the opinion of the judges
1 year beautiful young bitch, lovely feminine head, good proportion, black mask, good neck, lovely outline, excellent ridge, deep chest, well angulation, good size, free movement.

Natasa Davidovic, Scenthounds Club Dog Show Twardy Dół
19.05.2018
Good size,good bone bitch,still a little insecure,clean in
lines,in attitude and movement,very nice chest,sufficient
forechest,beatiful head,lovely eyes,good expression,free
movement

Andrzej Stępiński 50 Jubilee International Gorzów Dog Show
14.07.2018
Good size and format bitch,feminine head. Correct
body,good angulation. Movement enough dynamic .

Marian Paweł Bocianowski VII Winter National Dog Show
Choceń 3.03.2019